WASHINGTON, D.C. – Today, Congresswoman Jackie Walorski (IN-02) awarded Yejee Oh, a sophomore at Penn High School, with first place in the 2014 Congressional Art Competition from the 2nd Congressional District for her artwork titled "Naturelement Mc'canigue". Oh's artwork placed first out of 68 entries submitted to Walorski's office from around the district.
"This year's applicants were talented and submitted some outstanding artwork for the Congressional Art Competition. Every year, I look forward to seeing the different entries, and this year I was very overwhelmed by the level of talent in our community's young artists, especially Oh's entry," Walorski said. "Each of these students should be proud of their accomplishment and I thank each of them for participating."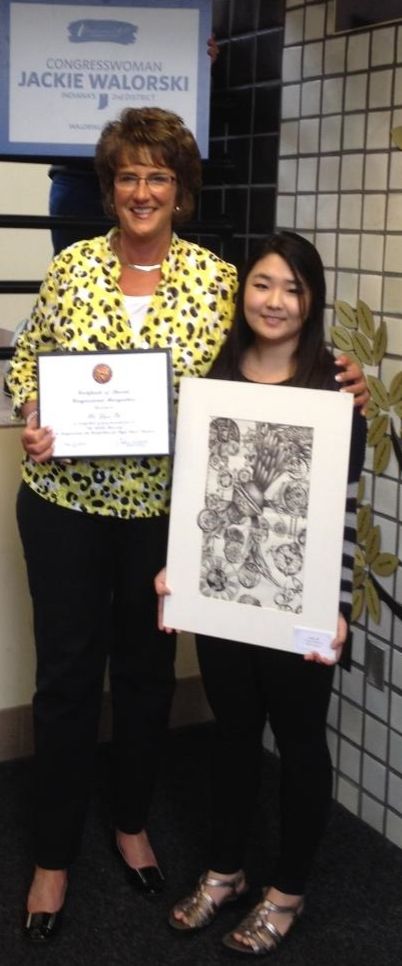 Walorski presented the finalists with their awards Monday night at a reception for the nine finalists at the South Bend International Airport. Walorski then visited with Oh at Penn High School this afternoon to present her with a certificate.
Each spring, the Congressional Institute sponsors a nationwide high school visual art competition to recognize and encourage artistic talent across the nation from each Congressional district.
A judging panel comprised of four local artists helped select a winning entry, which will then be displayed for one year in the U.S. Capitol in Washington, D.C.
The Congressional Art Competition began in 1982 to provide an opportunity for Members of Congress to recognize the artistic talents of high school students in their districts. Since then, more than 650,000 high school students have been involved with the nationwide competition.